Marie Huchzermeyer Studies Informal Settlement Eradication in Cities with 'Slums'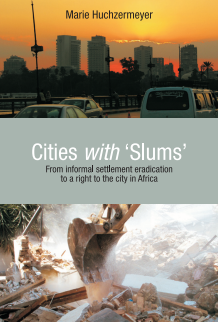 The UN's Development target to improve the lives of 100 million 'slum' dwellers has been inappropriately communicated as a target to free cities of slums. Cities with 'Slums': From Informal Settlement Eradication to a Right To The City In Africa traces the proliferation of this misunderstanding across several African countries, and explains how current urban policy, with its heightened focus on urban competitiveness and associated urban policy norms, encourages this interpretation.
The cases it presents cover a range of conflicts between urban residents and the local and national authorities that seek to curtail their 'right to the city'. It offers disturbing insights into post-apartheid South Africa's urban trajectory, with uneasy parallels in other African countries, both in the form of 'slum' eradication drives and in ambitious, but flawed, flagship pilot projects.
The book aims to inspire a wider understanding of, sympathy for and solidarity with struggles against informal settlement eradication in South Africa and beyond, and argues that the right to the city, in its original conception, has direct relevance for urban contestations in Africa today.
"Marie Huchzermeyer has tackled an issue of enormous social and political significance. With about half the world's population now living in cities and with rural-to-urban migration continuing unabated, the question of worldwide slums and slum eradication is central to understanding city-building processes and urbanisation in the future."
- Martin Murray, Professor of Urban Planning, Taubman College of Architecture and Urban Planning
Contents
Introduction
Part One: THE URBAN CONTEXT IN THE NEW MILLENNIUM
Informal settlements, global governance and Millennium Development Goal Seven Target
Urban competitiveness or improving poor people's lives: why 'Cities Without Slums'?
Informal settlements in the discourse on urban informality
Part 2: 'SLUM' ERADICATION IN ACTION
'Slum' elimination in Zimbabwe and Nigeria
South Africa's drive to eradicate informal settlements by 2014
Flagship 'slum' eradication pilot projects: flaws and controversies in the N2 Gateway in Cape Town and Kibera-Soweto in Nairobi
Part 3: THE STRUGGLE AGAINST 'SLUM' ERADICATION IN SOUTH AFRICA
A new target-driven upgrading agenda: space for rights-based demands?
A challenge to legal regression in the KwaZulu-Natal Elimination and Prevention of Re-emergence of Slums Act of 2007
A challenge to the state's avoidance of upgrading: the Harry Gwala informal settlement
Towards a right to the city
About the author
Marie Huchzermeyer is an Associate Professor at the School of Architecture and Planning at the University of the Witwatersrand, Johannesburg. She is the author of Unlawful Occupation: Informal Settlements and Urban Policy in South Africa and Brazil (AWP, 2004), co-editor of Informal Settlements: A Perpetual Challenge? (UCT Press, 2006) and author of Tenement Cities: From 19th Century Berlin to 21st Century Nairobi (AWP, 2011).
Book details
Cities with 'Slums': From informal settlement eradication to a right to the city in Africa by Marie Huchzermeyer
EAN: 978191989539
Find this book with BOOK Finder!