Marie Huchzermeyer Endorses Screenings of Dear Mandela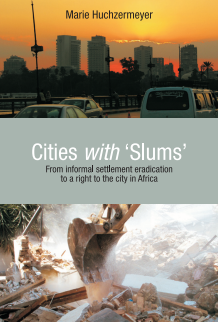 Dear Mandela, a documentary based on the plight of shack dwellers from the informal Kennedy Road settlement in Durban, who faced eviction from their homes in 2009, is set to be screened across Africa and Europe in the months to come.
Marie Huchzermeyer, author of Cities with slums: From informal settlement eradication to a right to the city in Africa told The New Age that "this documentary leaves us with questions that few have dared to ask about the new South Africa".
A documentary will be screened across 50 African countries over 18 months to retell the story of the shanty town of Kennedy Road in Durban, Amnesty International and its partners have announced.

The award-winning documentary, entitled Dear Mandela, will be screened in schools, community halls, universities, churches, and informal settlements.

It aims to show how people, when power is abused, invoke anti-apartheid icon and former President Nelson Mandela's example and become leaders in an inspiring social movement.
The documentary premièred at the Durban International Film Festival, before being screened in the Czech Republic and Austria. On the 23rd of March Dear Mandela will be shown at the University of Kwazulu Natal and on the 26th of March you can catch Dear Mandela on DSTV. The film will also head to the Netherlands and the UK.
Take a look at the screening schedule:
23 March, 2012 – DURBAN
17h00 for 17h30
University of KwaZulu Natal, Steve Biko Lecture Theatre
Nelson R Mandela School of Medicine
719 Umbilo Rd, Congella, Durban.
ADMISSION: R 20
RSVP: poonitha@gmail.com; 0825616620

23 MARCH – University College of London
Screening time TBD.
*Mzoke Poni from Abahlali baseMjondolo Western Cape in attendance
Watch the trailer for Dear Mandela:
Book details