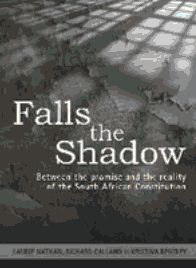 In 2008 Laurie Nathan, co-editor of Falls the Shadow and director of the Centre for Mediation in Africa, co-wrote a review of South Africa's security services, which focused especially on the infringement of constitutional rights.
The report "warned of scenarios not very different to Project Veritas," writes Phillip de Wet in an article for the Mail & Guardian. The project De Wet refers to is an intelligence operation based at the ANC headquarters which includes in its duties the vetting of potential Parliament members, "helping to select those who are to oversee the activities of intelligence agencies for the next five years."
Nathan tells De Wet that the government was warned of this kind of of problem but did not listen, which he says may be due to in-house nature of the issue: "All revelations about illegal political engagement by domestic intelligence has not been in relation to opposition parties. It has almost always been about the internal factional issue in the ruling alliance."
In 2008 Kasrils scrambled to make public the so-called Matthews report, to sound the alarm on the excesses of the security services and the urgent need for comprehensive reform. The report, written by former deputy minister Joe Matthews, former National Assembly speaker Frene Ginwala and academic Laurie Nathan, warned of scenarios not very different to Project Veritas.

As far as can be ascertained in the shadowy realms of intelligence, the report has been entirely ignored ever since.
Book details
» read article